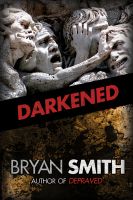 Darkened
is Bryan Smith's truly unique look at the apocalypse. The fabric of reality is beginning to disintegrate. As black slits begin to form in our world's existence hordes of winged beasts slip through creating complete chaos and unthinkable destruction. There are only a few lone survivors and just as these lucky souls think they have weathered the storm- they realize that there is an evil lurking that is far worse than anything any of them could have imagined.
Darkened
is everything I want in a post-apocalyptic story and then some. Smith heaps on the carnage and terror while keeping the story moving with characters that are genuinely engaging. The thing really chugged along at a brisk pace- inviting you to keep reading until you've hit the last page.
Darkened
never got distracted from its main purpose which was to tell one wild story. We weren't subjected to long winded descriptions of the destruction and there were no extraneous internal monologues that left the reader yawning. Smith started the action early, delivered some skull crushing blows and got out before the reader knew what hit them. It was a total blast!
Darkened
only confirms what I have known for some time now which is Bryan Smith is a brilliant force to be reckoned with. I've heard this tossed around from time to time but Darkened really cemented it for me- Bryan Smith is the heir apparent to the thrown of Laymon.
Recommended for some good ol' fashioned end of the world brutality!
Pick it up
here !
Go enter the contest
here.