THE WINNER IS MELISSA!!!! THANKS FOR ENTERING AND BE ON THE LOOKOUT FOR THE APRIL LAYMON CONTEST.
Well it's another month and it's time for another contest. This month I'd like to celebrate the work of Bryan Smith. Bryan is the author of several mass market horror novels, including
House of Blood, Deathbringer, The Freakshow, Queen of Blood, Soultaker, Depraved, The Killing Kind,
and
The Dark Ones
. Deadite Press became his primary publisher in late 2010, issuing
Rock and Roll Reform School Zombies
in October of that year. Deadite will also be releasing Bryan's back catalog that was once owned by Leisure.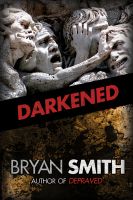 Bryan recently put out his first self-published novel,
Darkened
(formerly
Deadworld
). I would love to see this fantastic book be Bryan's highest selling title to date. What does this mean for you? Well, I'd like to give away a copy of
Rock and Roll Reform School Zombies
to a lucky reader who purchases
Darkened
.
How To Enter

Go to
Amazon
or
Smashwords
and buy
Darkened
(formerly
Deadworld
)! Then come back here and leave a comment to let me know you made the purchase. I also ask that you email me (gradezhorror@live[dot]com) with the name of the only blog listed in the "Acknowledgments" at the beginning of the book. This way I know you actually bought the thing.
How To Increase Your Chances

There are two ways to increase your chances of winning.
1) I will automatically enter anyone who follows the site so if you are a follower AND you leave a comment/send email you have two chances.
2) Every Monday I will send a tweet out as a reminder. Anyone who retweets the reminder will automatically be given an addition chance.
The contest will run until the end of March.
Good luck!